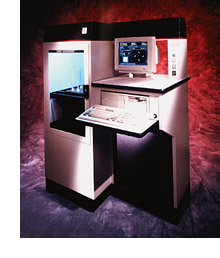 Build detailed prototypes with exceptional precision

"SLA gives us the ability to predict future marketing trends. We are able to be first out the door with what the customer wants."
- Morison Cousins, Vice President of Design, Tupperware, Inc.
The most widely used stereolithography systems in the world, SLA 250s are ideal for building small, detailed, precision parts -- and for introducing your organization to the benefits of solid imaging.
SLA 250/50: FOR FASTER, MORE VERSATILE PERFORMANCE. With double the laser power of the SLA 250/30, the SLA 250/50 lets you build more parts in less time, making it an ideal solution for small but busy shops. And its patented Zephyr™ recoating system yields higher throughput than earlier technology, especially when building trapped volumes -- perfect for building injection-mold cavities and other demanding applications.
SLA 250/50HR: FOR THE ULTIMATE IN PRECISION. SLA 250/50HR delivers all the features of the SLA 250/50, plus a high-resolution laser. With its small beam diameter, it can deliver parts with very small features, and extremely fine detail.
REVOLUTIONIZE YOUR BUSINESS - NO MATTER WHICH SYSTEM YOU CHOOSE. Convey your ideas more effectively. Test more innovations in less time. Detect flaws and bugs before you proceed to costly tooling and manufacturing. No matter which SLA 250 system you choose, you'll trim time and expense at every stage of product development -- and beat your competition to market with the highest quality products you've ever produced.
COUNT ON A TOTAL SOLUTION. Every SLA 250 system includes easy-to-use 3D Lightyear™ file preparation software. Every system works with a variety of our specially formulated resins, covering a broad range of modeling and prototyping applications. And every system is backed by 3D Systems' Global Support, which you can tailor to meet your production needs and your budget. Turn to 3D Systems' Educational Services for expert hands-on training in the latest solid imaging methodologies and techniques. And tap the resources of the 3D Systems' Technology Center for demos, benchmarks or for additional modelmaking capacity. It's a complete solid imaging solution you won't find anywhere else.
Use the SLA 250 Solid Imaging System for:
Prototypes for design verification and testing
Patterns for casting and molding
Tools for pre-production tooling
Parts for manufacturing aids, vendor solicitation and limited production runs
Download Datasheet:
Datasheet (.pdf 74K)